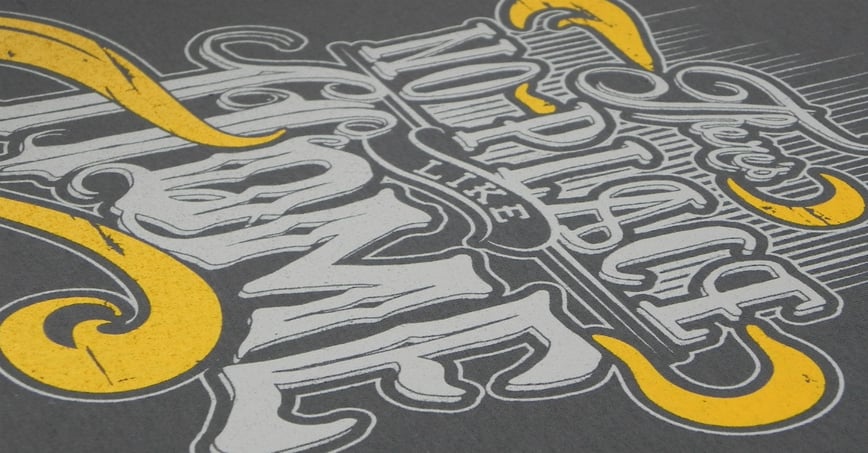 Small business marketing tends to be formulaic. If you run a small business, you know how it goes. Salespeople detect new blood in the neighborhood and burst through your front door, pushing radio schedules, TV spots, coupons in the local newspaper, and maybe a billboard or two. All traditional marketing platforms, designed for maximum reach. But, what if there were marketing techniques that kept the impressive reach and added captivating design? Good news: such things exist!
While there's nothing wrong with marketing on traditional platforms, small businesses need to stand out to get ahead. Some of the most effective means of standing out are too often overlooked. Take a look around you. Notice any empty space? Unused space can be leveraged to establish your brand and embed your message in the minds of potential customers. Here are a few overlooked ways that your small business can stand out:
SEE ALSO: Download our Fundraising Strategy Guide now!
1. Floor Graphics
Thanks to smartphones, people tend to spend a fair amount of time looking down. Those people include your potential customers. When they need a break from their screen, why not give them something cooler to look at? Floor graphics look amazing, are highly durable, and make great use of a blank canvas. Plus, not many small businesses do it. If you're willing to get creative, you can make a lasting impression and stand out from the crowd.
2. Vehicle Graphics
If you have a company vehicle, make sure that it's pulling its weight. Branding your vehicle with graphics is the perfect small business marketing idea. It gives you a marketing piece that can travel all over. Once the graphics are applied, you can get a lot of mileage (literally!) out of a single marketing investment. Like everything mentioned in this article, the success of your vehicle graphics will hinge on strong design. Nail that part and you'll stand out in the right way.
3. Branded Apparel
"If you design it, they will wear it." Pretty sure that's the line. If your design is strong (you're probably sensing a common theme here) you can give out branded apparel and get others to help you in your marketing efforts. That gives you a wide and diverse reach, without breaking the bank. Whether it's hats, glasses, tanks, tees, or even sunglasses, branded apparel can sneak your branding into more places and get your name out there.
4. Superior Signage
For a small business looking to stand out, signage matters. It paints a picture of your business as people drive or walk by. If your sign is poorly designed or nondescript, it can signal to potential customers that you're out of touch, untrustworthy, or even closed. You need signage both outside and inside of your business that lets customers know you mean ... business. Great design helps legitimize your business. Make sure that your signage is representing you well.
Standing out isn't easy, but above are 4 ideas that you can use to differentiate yourself from the competition. Place graphics in unexpected places, bring your company vehicle onto your marketing team, give others a reason to rock your branding, and make sure that your business looks the part. When you take advantage of these overlooked techniques, you'll be blazing a trail that your competitors will scramble to follow.
Don't let your small business miss out on marketing techniques that turn heads: