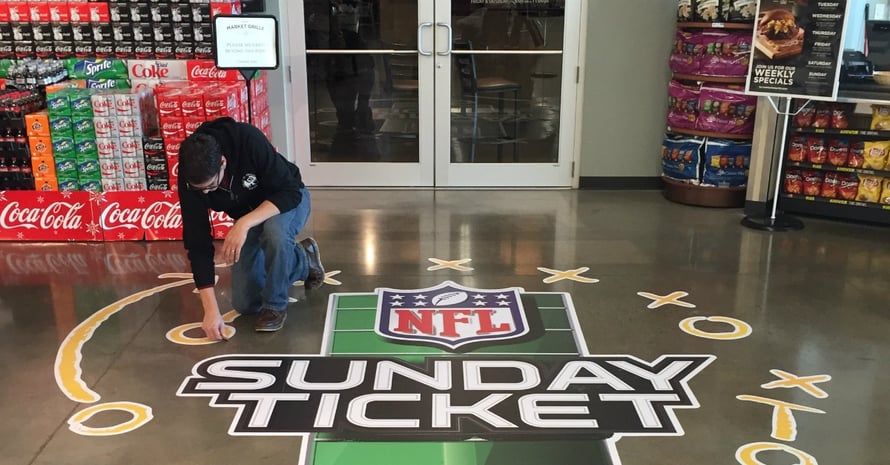 Are you missing out on thousands of square feet of ad space?
Think about it: you advertise on all four walls, use pop-up displays, and leverage all kinds of media. But you're still missing out. An enormous platform for marketing has been right under your feet this entire time. No matter the size of your venue, your floor space is sitting there, waiting to be leveraged. For venues like malls or arenas, floor graphics are an untapped marketing goldmine. They're perfect for advertising or branding your space. If you have a special event, utilize floor graphics to spread the word in way that's sure to grab attention. Paired with custom design, you can turn your floors into space with ascendant value.
Floor graphics have a unique advantage over signs on the wall: more people are looking down. You'll notice it's even a hazard from time to time. In our increasingly connected world, people tend to be tethered to their phones. That's true when they're sitting, standing, and, yes, walking. Why not take advantage of that and place graphics where people are already looking?
Graphics can be placed on floors inside or out. Below are a few features of each:
Indoor Floor Graphics
Bullet Proof
While not literally bullet proof, our graphics are the closest thing to it. According to our supplier, Floor Talker overlam is "overkill." But, we don't think you can overkill quality.
Extreme Foot Traffic
Our indoor floor graphics can be found in areas with extreme foot traffic (like O'Hare airport in Chicago). Despite thousands of people walking over them each day, they hold strong for up to a year!
Outdoor Floor Graphics
Alumigraphics
Alumigraphics are printed on a super-thin adhesive-backed aluminum substrate. Put simply, that allows you to have graphics on sidewalks and even parking lots (where the foot traffic becomes wheel traffic).
Unmatched Durability
Even when massive vehicles are rolling over your graphics, they'll stay strong. That is umatched durability that should give you the confidence to make use of your outdoor space more often.
Don't let unused space rob you of opportunties. Whether you're promoting an event, branding an arena, or looking for more advertising space, your floors are sitting there, waiting for you to take action. Using graphics that hold up to the most demanding conditions, you'll be able to count on your message getting through again and again. Looking for a new place to advertise and market? Let's talk soon.
Download our Tech Sheet today and learn more: